button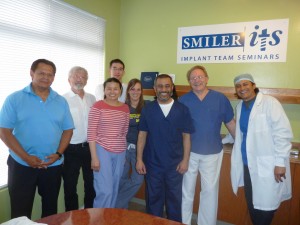 In May and June 2013, I took groups of surgeons to Tijuana for live dental implant surgical courses. Participants were able to learn surgical techniques and were then able to actually perform surgeries, with my assistance, on live patients! The course lasted three days and included roughly twenty hours of live surgical experience and about eight hours of instructive material.
The live surgery included the placement of implants. Each doctor placed a minimum of 10-15 dental implants in addition to experiencing bone graft procedures as well as lateral wall sinus lift, crestal alveolar sinus lift, socket grafts, tunnel grafts, piezo saw (crestal ridge splitting), bone marrow aspiration technique, centrifuge to prepare fibrin membrane, platelet derived growth factors and precursor cells.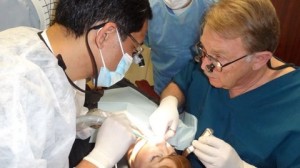 Typically, educational courses regarding oral surgery offer the attendee video and lecture, but do not include hands-on practical experience.
During these live dental implant surgery courses, patients in underserved communities in Tijuana were able to get desperately needed dental care and the group of surgeons were able to not only learn techniques for doing surgeries, but were able to help these individuals by performing surgeries themselves.
By performing these surgeries while I observed, they were able to ask questions during the surgical procedures and get instant answers and feedback, rather than having to wait until they returned home to try it themselves without any assistance. Each attendee at the live dental implant surgical hands-on workshop left knowing that not only had they learned new techniques, but that they were capable of performing these surgical procedures themselves.
Attendees also received dental continuing education credits (CLE) and credit towards AGD mastership and fellowship. Attendees were also eligible for fellowship status in the ICOI only for the 3-day program. I am looking forward to our next trip to Tijuana to train more doctors and help more patients get the dental implants that they need.